---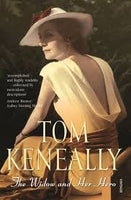 I knew in general terms I was marrying a hero. The burden lay lightly on Leo, and to be a hero's wife in times supposedly suited to the heroic caused a woman to swallow doubt… The Japanese had barely been turned away. It was heresy and unlucky to undermine young men at such a supreme hour.
When Grace married the genial and handsome Captain Leo Waterhouse in Australia in 1943, they were young, in love - and at war. Like many other young men and women, they were ready, willing and able to put the war effort first. They never seriously doubted that they would come through unscathed.
But Leo never returned from a commando mission masterminded by his own hero figure, an eccentric and charismatic man who inspired total loyalty from those under his command. The world moved on to new alliances, leaving Grace, like so many widows, to bear the pain of losing the love of her life and wonder what it had all been for.
Sixty years on, Grace is still haunted by the tragedy of her doomed hero when the real story of his ill-fated secret mission is at last unearthed. As new fragments of her hero's story emerge, Grace is forced to keep revising her picture of what happened to Leo and his fellow commandos - until she learns about the final piece in the jigsaw, and the ultimate betrayal.