---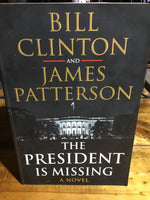 The President is missing.
As an unprecedented cyberterrorist attack cripples the United States, the President must face an unthinkable truth:
There is a traitor in his Cabinet. His life is in danger.
And the only way to stay ahead of the shadowy forces tearing at the heart of America is to go off the grid, leaving behind his presidential protection. The President must go missing – and he may never resurface…
Set over the course of three days that shake a nation to its core, The President is Missingsheds a stunning light upon the inner workings and vulnerabilities of the American government.