---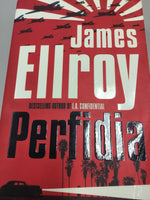 It is 6 December 1941.
America stands at the brink of World War II. Last hopes for peace are shattered when Japanese squadrons bomb Pearl Harbor. Los Angeles has been a haven for loyal Japanese-Americans - but now, war fever and race hate grip the city and the Japanese internment begins.
The hellish murder of a Japanese family summons three men and one woman. William H. Parker is a captain on the Los Angeles Police. He's superbly gifted, corrosively ambitious, liquored-up and consumed by dubious ideology. He is bitterly at odds with Sergeant Dudley Smith -:Irish emigre, ex-ITANkiller, fledgling war profiteer. Kay Lake is a 21-year-old dilettante looking for adventure. Hideo Ashida is a police chemist and the only Japanese on the LA cop payroll. The investigation throws them together and rips them apart. The crime becomes a political storm centr that brilliantly illuminates these four driven souls - comrades, rivals, lovers, history's pawns.