---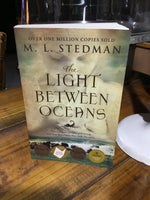 1926. Tom Sherbourne is a young lighthouse keeper on a remote island off Western Australia. The only inhabitants of Janus Rock, he and his wife Isabel live a quiet life, cocooned from the rest of the world.
Then one April morning a boat washes ashore carrying a dead man and a crying infant - and the path of the couple's lives hits an unthinkable crossroads.
Only years later do they discover the devastating consequences of the decision they made that day - as the baby's real story unfolds ...