---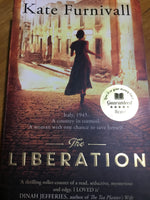 As British and American troops attempt to bring order to the devastated country, Italy's population fights to survive.
Caterina Lombardi is desperate - her father is dead, her mother has disappeared and her brother is drawing them both towards danger.
One morning, among the ruins of the bombed Naples streets, Caterina is forced to go to extreme lengths to protect her own life and in doing so forges a future in which she must clear her father's name. An Allied Army officer accuses him of treason and Caterina discovers a plot against her family. Who can she trust and who is the real enemy now? And will the secrets of the past be her downfall?