---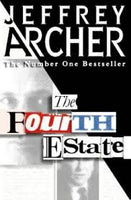 Lubji Hoch breaks the bonds of his humble beginnings as the son of an illiterate Jewish peasant, escapes the Nazis, changes his name to Richard Armstrong, becomes a decorated officer in the British army, and ultimately finds himself in Berlin, where his sharp mind and killer instincts win him the opportunity to head up a floundering newspaper. As rival papers in the city fail in the wake of his ruthlessness, he nonetheless yearns to move on to even greater things.
On the other side of the world, in Australia, Keith Townsend, son of a millionaire newspaper owner, is being groomed to follow in his father's footsteps. Private schools, an Oxford degree, and a position at a London newspaper lead him up to the time of his father's death, when he takes over the family business. His energy and brilliant strategic thinking quickly make him the leading newspaper publisher in Australia. Yet he too longs to move on to the world stage.
As both Armstrong and Townsend seize control of everything they see, their ambitions collide on a global scale. But suddenly they both find themselves threatened by financial disaster and enormous debt. Frantic to save his crumbling empire, each man turns desperate. One's quest will lead to triumph, the other's will end in tragedy in this awesome tale of wealth and corruption, desire and destruction.