---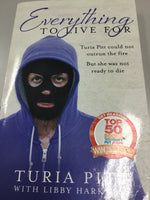 In September 2011, Turia Pitt, a beautiful 23-year-old mining engineer working at her dream job in Western Australia, entered an ultramarathon race that would change her life forever. Caught by fire in a remote gorge in the Kimberley, Turia and five other competitors had nowhere to run.nEventually - through an act of heroism - air-lifted to hospital, she had suffered catastrophic burns to 65 per cent of her body.
Battle upon battle has followed: first to survive, next to adapt - to the remnants of her face, the loss of fingers, daily therapy, endless operations - and then for justice. Because the race should never have happened. Turia's fight with the race organisers is ongoing.
Everything to Live For explores Turia's journey and the web of people and events around it. It is a study of strength - of Turia's will; of the love of her partner, Michael, and the couple's families; and of the support from their community in Ulladulla, New South Wales, who have rallied, raising funds to help with huge medical bills.