---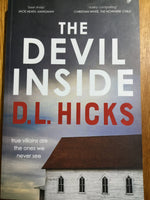 Do not fear what you are about to suffer. Revelation 2:10
In a peaceful coastal town, a young woman is found brutally murdered, a piece of scripture held tightly in her hand. Local detective Charlotte Callaghan is put on the case, and she's glad for the distraction – Gull Bay can be a hard place to keep a secret, and she's holding on to a few.
After Charlotte asks her brother, Father Joseph Callaghan, about the verse, her suspicions fall on his parishioners. Then a second victim is found, along with another biblical message.
A dark betrayal is concealed within the small community. For Charlotte, there's something personal about this case, something that threatens the very core of her beliefs. Can she unravel this mystery before it tears her town apart?
A gripping crime novel about murder, betrayal, and the monsters who hide in plain sight.