---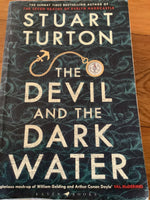 It's 1634 and Samuel Phipps, the world's greatest detective, is being transported from the Dutch East Indies to Amsterdam, where he is facing trial and execution for a crime he may, or may not, have committed. Travelling with him is his loyal bodyguard, Arent Hayes, who is determined to prove his friend, innocent, while also on board are Sara Wessel, a noblewoman with a secret, and her husband, the Governor General of Batavia.
But no sooner is their ship out to sea than devilry begins to blight the voyage. A strange symbol appears on the sail. A dead leper stalks the decks. Livestock are slaughtered in the night.
And then the passengers hear a terrible voice whispering to them in the darkness, promising them three unholy miracles. First: an impossible pursuit. Second: an impossible theft. Third: an impossible murder.
Could a demon be responsible for their misfortune?
With Phipps imprisoned, only Arent and Sara can solve a mystery that stretches back into their past and now threatens to sink the ship, killing everybody on board.............