---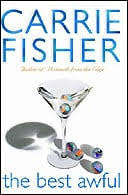 When we left Suzanne Vale at the end of Carrie Fisher's bestselling 
Postcards from the Edge,
 she had survived drug abuse, rehab, and Hollywood celebrity. 
The Best Awful
 takes Suzanne back to the edge with a new set of troubles—not the least of which is that her studio executive husband turned out to be gay and has left her for a man.
Lonely for a man herself, Suzanne decides that her medication is cramping her style, and she goes off her meds—with disastrous results. The "manic" side of the illness convinces her it would be a good idea to get a tattoo, cut off her hair, and head to Mexico with a burly ex-con and a stash of OxyContin. As she wakes up in Tijuana, the "depressive" side kicks in, leading Suzanne through a series of surreal psychotic episodes before landing her in a mental hospital. With the help of her movie star mom, a circle of friends, and even her ex-husband, she begins the long journey back to sanity.