---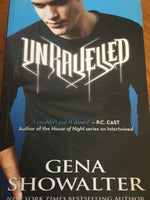 Since coming to Oklahoma, former outcast Aden Stone has been living the good life. Never mind that one of his best friends is a werewolf, his girlfriend is a vampire princess who hungers for his blood, and he's supposed to be crowned Vampire King-while still human! Well, kind of........
With four- oops, three now-human souls living inside his head. Aden has always been 'different' himself. These souls can time-travel, raise the dead, possess another's body and, his least favourite these days, tell the future.
The forecast for Aden? A knife through the heart.
But he isn't about to lie down and accept his destiny without a fight. Not when his new friends have his back, not when Victoria has risked her own future to be with him, and not when he has a reason to live for the first time in his life.....