---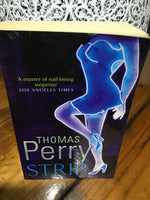 An aging but formidable strip club owner, Claudiu "Manco" Kapak, has been robbed by a masked gunman as he placed his cash receipts in a bank's night-deposit box. Enraged, he sends his half-dozen security men out to find a suspect who is spending lots of cash and is new enough to Los Angeles not to know he was robbing a gangster.
 Their search leads them to Joe Carver, an innocent but hardly defenseless newcomer who evades capture and sets out to make Kapak wish he'd chosen someone else. Meanwhile, the real culprit, Jefferson Davis Falkins, and his new girlfriend Carrie seem to believe they've found a whole new profession: robbing Manco Kapak.
Lieutenant Nick Slosser, the police detective in charge of the puzzling and increasingly violent case, has his own troubles, including worries about how he's going to afford to send the oldest child of each of his two bigamous marriages to college without making their mothers suspicious.
 As this odd series of difficulties explodes into a triple killing, Carver finds himself in the middle of a brewing gang war over Kapak's little empire, while Falkins and Carrie journey into territory more strange and violent than either had imagined.