---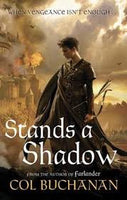 The sequel to 'Farlander' sees the Holy Matriarch of Mann ordering a risky invasion of the Free Ports. Her plans are the complete conquest of the fortress city of Bar-Khos, whose walls have held the empire at bay for ten long years of siege.
Ash is an ageing Roshun assassin who is determined to avenge the previous victims of the Matriarch. Che the Matriarch's personal Diplomat and also a trained killer of the state is questioning his own path in all of this.
With the battle for the Free Ports intensifying more lives are drawn into the conflict: Bahn, a siege shocked soldier on the verge of losing his mind; Bull, a murderer; and Curl a young dross-addicted prostitute who finds herself making a stand against the Mannian Empire.
Only the determination of one man seeking redemption may be enough to sway the final outcome...