---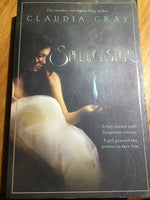 When Nadia's family moves to Captive's Sound, she immediately realises there's more to the place than meets the eye. Descended from witches, Nadia can sense that a spell has been cast over the tiny Rhode  Island town - a sickness infecting everyone and everything in it. The magic at work is darker and more powerful than everything she's come across, and the person it has affected more is Mateo - her rescuer, friend, and the guy she yearns to get closer to, even though he pushes her away.
Mateo's family has a tormented past and it soon becomes evident that Mateo is the next member of his family to be cursed, particularly when the strange dreams Mateo has been having of rescuing a beautiful girl from a car accident actually comes true.
Despite the forces pulling them apart, Nadia and Mateo must work together to break his terrible family curse and prevent a coming disaster that threatens the entire town, including Nadia's family, her newfound friends, and her own life.