---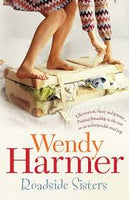 Nina, Meredith and Annie have decided to hit the road one more time. It's twenty years since they toured together as members of the gospel choir Sanctifies Soul. How far have they all come since then? Do they still have anything in common?
Elegant Meredith, motherly Nina and the determinedly single Annie are as unlikely companions as you could find. But like a matched set of 1950s canisters of Flour, Sugar and Tea, they always seem to end up together.
When a tropical wedding beckons in Byron Bay, two thousand kilometres from their homes in suburban Melbourne, they make the alcohol-fuelled decision to drive a monster mobile home up the coast for the trip of a lifetime.
Squabbles and secrets, tears and laughter-not to mention the possibility of finding Mr Right along the way-this trip might tear them apart or it might just save their lives.