---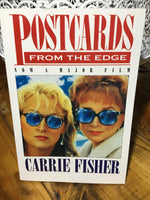 When we first meet the extraordinary young actress Suzanne Vale, she's feeling like "something on the bottom of someone's shoe, and not even someone interesting." Suzanne is in the harrowing and hilarious throes of drug rehabilitation, trying to understand what happened to her life and how she managed to land in a "drug hospital."
Just as Fisher's first film role—the precocious teenager in 
Shampoo
—echoed her own Beverly Hills upbringing, her first book is set within the world she knows better than anyone else: Hollywood. This stunning literary debut chronicles Suzanne's vivid, excruciatingly funny experiences inside the clinic and as she comes to terms with life in the outside world. 
Postcards from the Edge
 is more than a book about stardom and drugs. It is a revealing look at the dangers—and delights—of all our addictions, from money and success to sex and insecurity.