---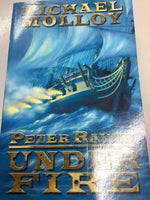 Peter Raven is the new midshipman on board HMS Torren, a Royal Navy ship battling with the French, led by general Napoleon Bonaparte.
From the outset, the thirteen-year-old finds himself bound to Commodore Beaumont, an intrepid British spy.
When unexpected events at sea lead the pair into a dangerous intrigue on shore, they discover an extraordinary plot by the French: to create a vast empire by taking control of the newly-created United States of America.......
Soon it's a race against time to the pirate-filled waters of the Caribbean to save an entire nation - and the spirited American girl who had captured their hearts.