---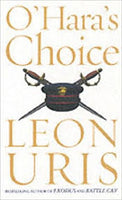 In the years following the Civil War, first-generation Irish-American Zachary O'Hara, son of a legendary Marine and a force of a man in his own right, finds himself playing a critical role in the very future of the Marines. If he can persuade the Secretary of the Navy that the Marines are more crucial than ever to America's safety and security -- all the while hefting a heavier secret weight in his heart -- he'll save the corps and make his career.
But there's an obstacle in his path that this warrior had not planned on. Amanda Blanton Kerr, the daughter of a ruthless industrialist, is a woman on a mission of her own; passionate, obstinate, and whip-smart, she's an heiress poised to blaze a trail for her sex.
O'Hara's Choice is the story of the inevitable collision of these two handsome, fighting spirits. Getting their souls' desire could jeopardize everything they -- and their parents before them -- scraped and struggled to achieve.