---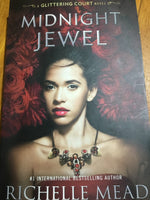 Mira is not like the other Glittering Court girls. She is a war refugee, cast out of her home country and thrust into another, where she has learned to fight against the many injustices around her. For some, the Glittering Court offers a chance at a life they've only ever dreamed of, one of luxury, glamour and leisure. But for Mira, it's simply a means to an end. In the new world, she plans to earn off her marriage contract price and finally be free.
Mira pitches herself as an asset to one of the passengers on board the ship: the sardonic and aloof Grant Elliot, who she's discovered is a spy for the prestigious McGraw Agency - and her ticket to buying her freedom. His cover blown, Grant has little choice but to take her on. Mira applies herself by day, learning the etiquette and customs that will help to earn her anonymity. By night, she dons a mask and slips into the city, fighting injustice and corruption on her own terms - and impressing Grant with her extraordinary abilities and insights into a brewing rebellion. But the rebellion isn't all they're fighting..........
For neither can ignore the attraction burning between them - an attraction so powerful, it threatens to unravel everything Mira's worked so hard for. With freedom finally within her grasp, can Mira risk it all for love?