---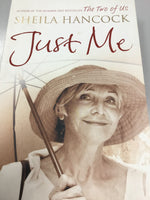 in The Two of Us Sheila Hancock relived her life with John Thaw - years packed with work and family, delight and despair. And then she looked ahead. What next? Gardening, granny img and grumbling, while they all had their pleasures, weren't going to fill the aching void that John had left.
Instead 'Live adventurously', a piece of Quaker advice, was hovering in her mind. So she embarked on a series of journeys. Having never been much of a person for leisure, now she tried holidaying - alone, in a group, in and out of her comfort zone - and found that her travels led her to reconsider not only her present but her past.
Just me is a book about moving on, but it is also about looking back, and looking anew. Honest, insightful and wonderfully down-to-earth, Sheila - whether puzzled in Budapest or spoilt in Thailand, ravished by Venice or persuaded by Berlin - is a woman seizing the future with wit, gusto and curiosity, on her own.