---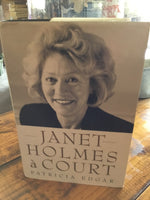 Janet Holmes a Court is a detailed portrait of a complex and passionate Australian who has never been afraid to do things her own way. In 1990, the legendary Robert Homes á Court died, and his wife Janet took over the reins of the company he had made famous - Heytesbury Holdings. Against all expectations and prejudices she has been able to reshape Heytesbury convincing the business world that she had the strength and personal gifts - if not financial training - to guide that tottering empire on to a new stage.
This insightful biography sheds light on two very different corporate cultures - Heytesbury before and after Robert Holmes á Court. Detailed here are his business deals, his power games and his aggressive entrepreneurial style that helped stamp the eighties as the era of excess. 
Then there is Heytesbury post-Robert. As the company's new CEO, Janet provied to be that rarity - a business person who tempers commercial success with cultural and social justice.