---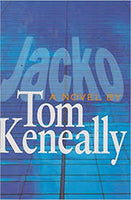 Is America ready for Jacko Emptor?
Jacko Emptor, Northern Territory born, brings Australian wilderness to the television screens of America. Is American ready for him? Is he ready for America? Jacko, investigative reporter, exploits American innocence to break into living rooms and penetrate the heart's secrets. But these secrets make their claim on him too, especially the secrets of Sunny Sondquist, a child-woman missing in the American heartland.
Follow Jacko as he exposes evil, falls from grace and shows how television makes gods of some and fools of many.