---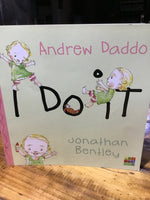 There's nothing she can't do.
If you say, "Would you like me to help you into the car?"
She says, "I do it"
This charming picture book for the very young perfectly captures a child's determination to be independent - at all costs. Andrew Daddo's beautiful story, coupled with Jonathan Bentley's delightful illustrations, will touch the hearts of all.