---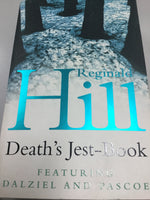 Three times DCI Pascoe has wrongly accused dead-pan joker Franny Roote. This time he's determined to leave no gravestone unturned as he tries to prove that the ex-con and aspiring academic is mad, bad and dangerous to know. 
Meanwhile, Edgar Wield rides to the rescue of a child in danger, only to find he's got a rent-boy under his wing. In return, the boy tips him off about the heist of a priceless treasure, and soon Wieldy is torn between protecting the land and doing his duty.
His superiors might have worries, but DC Bowler is looking forward to a blissful New Year with the girl of his dreams. Unfortunately, her dreams are filled with a horror too terrible to tell....
And over all this activity broods the huge form of Mid-Yorkshire CID's First Mover, DS Andy Dalziel. As trouble builds, the Fat Man discovers (as many deities before him) that omniscience can be more trouble than it's worth, and that sometimes all omnipotence means is that you can have any colour you like, as long as it's black.