---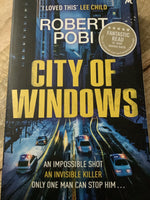 The shot is impossible.
In the middle of a blizzard, down a busy New York avenue, into a moving car.
And there's nothing worse than hunting a killer with a rifle in a city of windows.
The agent in charge knows only one man with the skills to work out where the billet came from. Lucas Page, physics professor and maths prodigy, quit the FBI after it nearly cost him his life. But he can't resist the call to help, to prove that he is still capable of extraordinary things.
Because Page is wired to see crime from a different angle. The science that explains the impossible shot. The geometry that reveals the killer's location. The logic that tells him this shooter has killed like this before. And will do it again, and again, until they are stopped............