---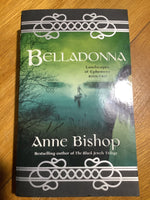 'Heart's hope lies within belladonna…..'
For the women of Elandar, these words are a riddle and a warning, for death stalks the cities and villages and the very world seems to tremble in fear.
For Michael, a wandering musician, the riddle is the first step on a journey that will reveal the true nature of the power he wields and lead him to the woman who haunts his dreams: Glorianna Belladonna. But Michael has a secret - and a terrible choice to make……..
And for Glorianna, the arrival of Michael and his sister Caitlin opens doors to other landscapes and the truths within her own heart.